Album review: Arch Enemy "Deceivers"
Catchy melodies and clean singing meet death metal and growling on the band's 11th full-length studio album.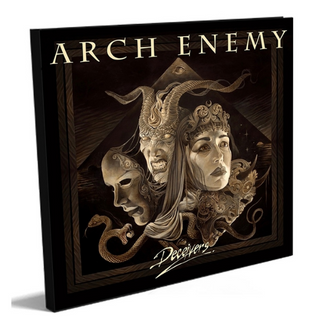 Melodic death metal band Arch Enemy is back with a new album. The two words that come to mind when I listen to the new album are energy and catchiness. The album is an unstoppable energy burst. The band has come far since it was founded by former Carcass guitarist Michael Amott in Halmstad, Sweden in 1995. Still in the band from the start is drummer Daniel Erlandsson. Long-term bassist Sharlee D'Angelo has been on the job since 1998 after having made a name for himself with Mercyful Fate. American guitarist Jeff Loomis (ex-Nevermore) and Canadian singer Alissa White-Gluz (ex-The Agonist) both joined the band in 2014. "Deceivers" is the third album with the current line-up, following "War Eternal" (2014) and "Will to Power" (2017). Alissa has evolved as a vocalist during her time in the band. Known as a growler, on the new album, in addition to some excellent growling, we also get to hear some clean singing, such as on the modern-sounding track "Handshake with Hell". The increased vocal variety makes this album better and more interesting. The songs are also more varied. There are excellent atmospheric choirs in an epic cinematic soundscape on the superb track "Spreading Black Wings". "Deceivers", the band's 11th full-length studio album, is an excellent album. It is melodic death metal with great guitars but this time we get more mainstream melodies and somewhat catchier songs. Old-school death metal fans may not necessarily like the catchiness, but I do. As much as I love stinky old basement death metal, I enjoy it when bands take that inspiration and make something new of it. The catchiness of many of the songs on the new Arch Enemy album may win them new mainstream fans that wouldn't listen to the music that early Arch Enemy played. But don't get me wrong, there are terrific brutal parts to many of the songs, such as "The Watcher", but the mayhem is backed up by melodies. As great as the new stuff is, my favourite track on the album is probably "Sunset Over the Empire", which is one of the songs that most resembles the classic Arch Enemy sound of the past couple of albums. I applaud Arch Enemy for not just sticking with the past and instead keep moving forward to create something new based on the band's well-established musical foundation. When loved bands change things, it is a ballsy and risky move as it may alienate some old-school fans. Make no mistake about it, Arch Enemy has both the balls and talent to do it and do it well.
Arch Enemy's new album "Deceivers" will be released on 12th August via Century Media Records internationally and Trooper Entertainment in Japan.