Live album/DVD review: Anthrax "Kings Among Scotland"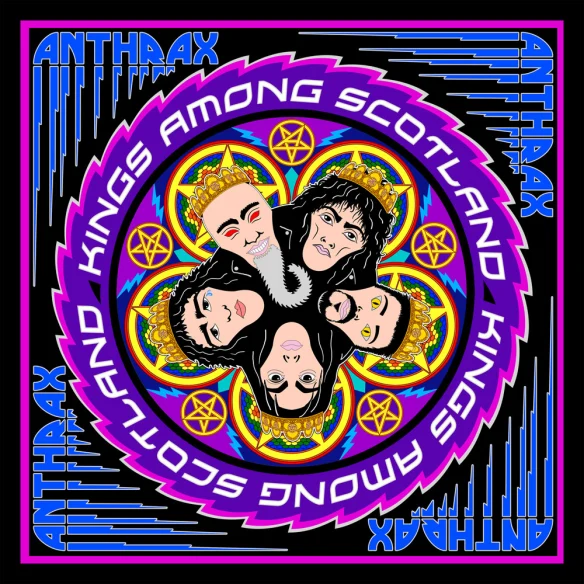 American thrashers Anthrax on top form in Scotland as they mark the 30th anniversary of "Among The Living" with a live release.
American thrashers Anthrax are always great live. I first saw them live in 1990 when they opened for Iron Maiden and most recently last year when they opened for Megadeth. Always full of energy, attitude and ready to entertain their audience. On the new live CD/vinyl/DVD "Kings Among Scotland" we get exactly that. Anthrax has released some brilliant studio albums over the years, but it is live on stage, in front of their fans, that these American thrashers really become kings of Scotland and the rest of the world. The sweat, the headbanging, the singalongs, the air guitar duels, the circle pits and the metal horns in the air take this to another level.
The two-disc release "Kings Among Scotland", recorded in Glasgow on 15th February 2017, is split into one best-of disc and one where Anthrax plays their 1987 album "Among The Living" in its entirety to celebrate its 30th anniversary. On the first disc of "Kings Among Scotland" we get all the good stuff we would expect from an Anthrax gig: "A.I.R.", "Madhouse", "Evil Twin", "Medusa", "Fight 'Em 'Till You Can", "Blood Eagle Wings" and more. Anthrax is in great form and the current line-up is killer. Charlie Benante (drums), Scott Ian (rhythm guitar), Frank Bello (bass), Joey Belladonna (vocals) and lead guitarist Jonathan Donais are on fire here. Only guitarist Dan Spitz is missing from the line-up that recorded the original "Among The Living" studio album.
On the second disc, the band gets challenged as they don't usually play some of the tracks from "Among The Living" in their live set. But they pull it off big time. What a treat! One of the best thrash metal albums of all time performed live in front of a sold out rowdy crowd of Scots at Barrowland Ballroom in Glasgow. "Caught In A Mosh", "I Am The Law", "A Skeleton In The Closet", "Indians", ""Efilnikufesin" and all the good stuff served up as a thrash metal feast. The band finishes with "Antisocial", a cover of a song by French hard rockers Trust that Anthrax has made into its own over the years.
The production is fabulous as it has managed to capture the energy and rawness of Anthrax live. The album cover art is a terrific tribute to the classic KISS album cover "Rock And Roll Over". Buy the vinyl version and frame it.
Anthrax's "Kings Among Scotland" will be released on 27th April in Japan via Ward Records in Japan and Megaforce internationally.