Album review: Northwind "Imperfect Harmony"
Norwegian progressive hard rock band Northwind's new album is a whirlwind journey across a mythical Nordic landscape.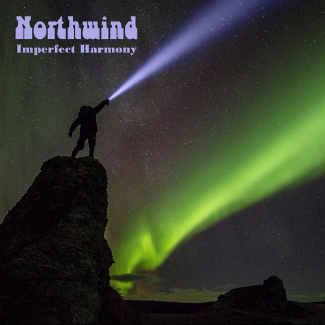 Northwind's new album "Imperfect Harmony" does not sound retro, but the soundscape is built on the structure of the rock music of the 70s. The Norwegian band manages to build their soundscape based on the past without sounding dated or deliberately retro. The music has a terrific foundation in early hard rock. But this album is a whirlwind journey across hard rock, classic rock, prog rock and even improv jazz influences. It goes from heavy to light, from dreamy to a punch in your face in seconds. Many of the songs have great musical jams built into them. The resulting musical mix is excellent and very enjoyable. It comes across like some kind of rock opera or similar "Jesus Christ Superstar"-like stage production. On the new album, the band's second album and the follow-up to 2018's "Remarkable Rock", we get eight new songs plus the band's interpretation of a Scandinavian medieval ballad. Northwind was founded in 2012 by bassist Kai Brekke and guitarist Lars Svendsen. Lead singer Niclas Winther's prog-rock vocals are complemented by Mona Stang Svendsen's dreamy female vocals in a way that gives the music a bit of folk music touch. Mona also brings her jazz background into the band's music. Having two lead vocalists with rather different styles gives the band flexibility to take their songs in several directions. What sets Northwind apart from some of the also-rans is keyboardist Nicky Georgiev, Northwind's own Jon Lord, who adds some terrific sounds with his B3 Hammond organ. The band is anchored by Hjaran Berge on drums. The two opening tracks on the album, "Invisible Heroes" and "Signs", successfully combine excellent 70s-style hard rock with some prog/folk bits. They set the tone for the album that mostly continues in the same style with constant twists and turns. "Beyond the End" is my favourite track that seamlessly goes from a growling troll to a singing angel in a second and sways from heavy metal to folk music in the same time frame. "Unchain Me" is simply fantastic. "The Dark" is a very jam-happy track while "March of the Keepers" kicks off with a fantastic organ intro. The epic title track has more than a touch of old Deep Purple to it. "Krakevisa" is a traditional folk ballad which in Northwind's version has an excellent Garmarna vibe about it.
Northwind's new album "Imperfect Harmony" will be released on 14th May.