Gig review: Cyhra Japan tour premiere in Shibuya
Cyhra kicked off their Japan tour with a Tokyo gig performing songs from their forthcoming third album for the very first time.
Cyhra, Vampires Everywhere and Illusion Force at Duo Music Exchange, Shibuya, Tokyo, Japan on 19th January 2023
On Thursday night, modern melodic metal band Cyhra kicked off their nine-date club tour of Japan. The tour includes stops in Tokyo, Osaka and Nagoya. Local power metal band Illusion Force opened the evening with enthusiasm and energy. Then special guests Vampires Everywhere from the US put on a short but great set of a fine mix of metalcore, goth metal and shock rock with some industrial elements. This new version of the band that lead vocalist Michael Vampire has put together has some serious potential. It will be interesting to see if the new version of the band can take this to the next level. The live set in Tokyo certainly suggested that.
For the first gig on the tour, Cyhra, for the very first time, played songs from its forthcoming third studio album. Apart from the already released single "Ready to Rumble", which was fab live, I am not at liberty to reveal the names of the songs or the album, but the new songs worked very well live. It was a pleasant surprise to see that the Japanese fans, although they had never heard the new songs, engaged with the band during these songs. The new material is very strong and the new album when it comes out later this year, will no doubt rival the excellent first two Cyhra albums. Cyhra's music is modern and melodic but it mixes that very well with loud drums and heavy guitar riffs. Alex Landenburg on drums anchors the music like it's nobody's business. Early in his career, this German drummer was a live member of Annihilator and he brought that thunder with him on stage for the Cyhra show. The twin Swedish-Finnish guitar attack of Marcus Sunesson and Euge Valovirta gives Cyhra's melodic music some contrasting heaviness. They also have excellent stage moves to go with their playing. And leading from the front is vocalist Jake E. He has toured Japan a bunch of times in the past with his past band and he knows how to give a Japanese audience what it wants. On this first evening of the Japan tour, they performed almost all of the songs from the band's forthcoming third studio album which is expected to be released soon. We also got terrific songs from the band's 2017 debut album "Letter to Myself", such as the title track as well as "Karma" and "Here to Save You". From 2019's "No Halos in Hell", we got to hear favourites such as "Kings Tonight", "Battle from Within" and "Out of My Life" which closed the show. Different shows on this tour will have different setlists.
The Japan tour continues tonight with a second gig at Duo Music Exchange in Tokyo followed by seven more shows in Nagoya, Osaka and Tokyo until 28th January. Tickets here!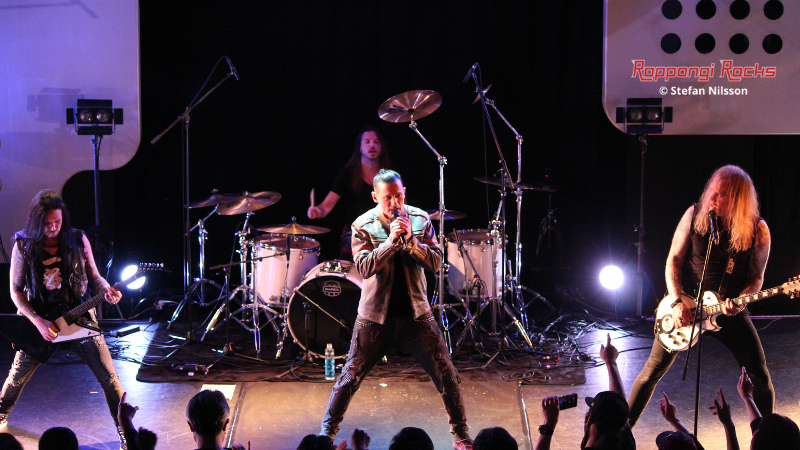 www.facebook.com/cyhraofficial
www.facebook.com/vampireseverywhereofficial